For over 45 years, the World Council of Credit Unions has successfully helped build financial services in communities worldwide. Consumer-owned credit union financial cooperatives can offer Cuban citizens access to a safe place to save, take out loans or access credit. As greater contact with Cuba normalizes, World Council is readying to introduce the idea of credit union services to Cuban citizens.


The Challenge
Cuba is a state planned economy. The financial system in Cuba is state-controlled and directed. Financial institutions are government owned with specific sector directives. The central plan sets interest and exchange rates.
Recently, government policy has allowed limited private sector operations, such as individual or family-owned restaurants. Because this is a new sector, the greatest operational challenge for these entrepreneurs is often the ability to purchase inputs and access markets.
Credit is the second biggest challenge hindering entrepreneurial and production growth. Due to difficulty accessing credit from banks, many entrepreneurs borrow from family members or rely on remittances from the United States. While this approach has worked for many family enterprises, it precludes businesses from acquiring large capital and leaves out those who do not have family outside of Cuba.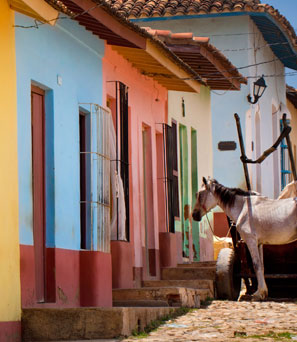 Why Credit Unions in Cuba?
Credit unions provide several advantages as a complementary offering in a broad spectrum of financial intermediaries. As a community-based vehicle, credit unions mobilize savings from within the communities themselves, rather than importing external capital. The savings mobilized are then reinvested into the community's economic activities, not transferred to urban areas or large borrowers.
Capital returns go back into the credit union and its community member-owners, instead of to international investors. This competitive model provides borrowers with accessible and lower-price interest rates; while also pressuring other financial organizations, such as banks or micro-finance institutions, to extend lower-price options.

What is World Council Doing?
World Council is working with a diverse group of experts including economists, Cuban and U.S. officials, as well as credit union representatives to learn more about economic and market conditions in Cuba and establish the viability and policy framework for credit unions.
In July 2015, World Council President and CEO Brian Branch visited Cuba, where he met with economists and local entrepreneurs to gain a broad understanding of what is needed for developing credit unions in-country.
To further share with policymakers the credit union model, a U.S. delegation of credit union leaders traveled to Cuba in October and participated in a fact-finding and educational visit.
Ongoing dialogue and in-depth research will continue to shape World Council's efforts.
How You Can Get Involved
World Council is offering ways for you to support and learn more about credit unions and cooperatives in Cuba.
Join the conversation
about #CreditUnionsForCuba